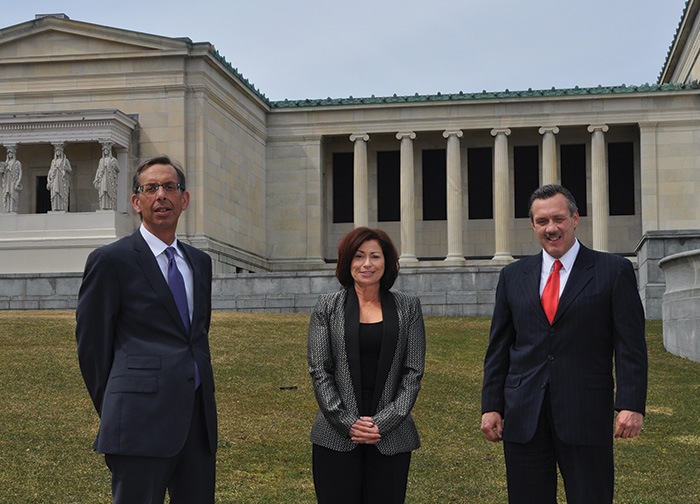 Pictured (L to R): Frank Boccio, Carla Boccio, and John Arnet,
Buffalo Limousine's triumvirate of owners
The next generation of Buffalo Limousine carries on the tradition of detail-oriented service.
In the chauffeured transportation industry' a good company lets no call go unanswered. When the phone rang one day in 1961 at the Patti family's funeral business' Mortuary Service' Camille Patti answered' not knowing that this call would change the path of the company forever.
On the other line was a friend who knew a local concert promoter looking to rent five limousines to get his group to a rock concert. They had the vehicles' but Camille wasn't sure what to charge. She settled on $25 per car and the promoter agreed. However' her husband' John Patti wasn't as agreeable. He was concerned about damage to his vehicles' who would be willing to drive them so late' and who would clean the vehicles. But they did the job' the promoter paid in cash that night' and Buffalo Limousine was launched.
This side of the business took off' and within a few years' the Patti's discontinued the funeral business and focused on marketing the high-end limousine and sedan service. The rest' as they say' is history.
More than 50 years later' Buffalo Limousine is still going strong. Carla Boccio and her husband Frank purchased the company from her parents in 2000' and partner John Arnet joined the company in 2005 after running his own transportation service. Together' the trio has taken it to new heights.
Running Buffalo Limousine was not something Boccio necessarily saw herself doing growing up. Sure' she worked in the business for a while' along with her sister and brother' but she spent time away exploring her own opportunities. She eventually moved back home and later married Frank' one of Buffalo Limousine's chauffeurs-turned-owner-operator. After raising two kids' Boccio felt ready to jump into the business full time.
"My parents had been working in the business for 40 years' and they had the right to slow down'" Boccio says. "But even today my father is still involved. He never had a hobby. He would eat' sleep' and drink the limo business. When I talk to him' he wants to hear about things in this order: business and then family.
It's not as crazy as it sounds. For John Patti' it was always about the service and paying attention to details. "Being hands on is something that gives us an edge. Not many companies can say they've had the same account for 48 years'" says Boccio. "My father believed in being out there with clients' knowing they would be more apt to tell him the truth about any issues. Frank continues this tradition as often as he can."
In fact' many of the practices implemented by Patti helped Buffalo Limousine climb to the top in its market. While building on the burgeoning entertainment work coming through Buffalo' the company also targeted businesspeople looking for rides to and from the airport. According to Boccio' in the early 1960s' companies charged a three to four hour minimum for airport transfers. Patti decided to offer a flat-rate transfer.
"This was well-received and word-of-mouth traveled through the wealthy families in Buffalo' which lead to referrals'" she says. "In the early '70s' he got a taste of corporate work with a large local bank. It paid well' so he shifted the business into black vehicles to capitalize on this. In 1980' it exploded for us."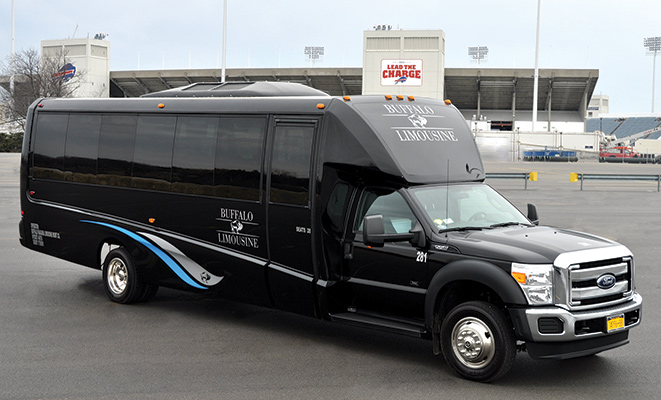 A Buffalo Limousine bus idles in the parking lot of Ralph Wilson Stadium, home of the Buffalo Bills
Today' corporate work is the meat of Buffalo Limousine's business. Its fleet is comprised of 24 all black vehicles: Cadillac and Lincoln sedans (including the MKS and MKT)' GMC SUVs' two black stretches' a Mercedes-Benz Sprinter' Van Terras (with forward-facing and limo-style seating)' executive minibuses' and limobuses for up to 28 passengers.
You'd be hard-pressed to find a fleet as updated and well-maintained as this one' and that's something affiliates have taken notice of' according to Boccio. "If any major network is sending work to Buffalo' you can bet their clients are in our cars'" she says. "And that's something that my father was instrumental in' dating back to being an original NLA member and forming relationships with the people who ran the networks."
When limousine networks were formed in the '80s' Boccio says they needed companies with true 24/7 service. "Networks like CLS' Music Express' and later' Empire … they wanted to be able to call and confirm trips and chauffeur details at any hour. My father always maintained 24-hour service'" she says. "Another thing that our affiliates have always appreciated is our uniformed chauffeurs' who wear white shirts' black suits' and a cap."
She continues' "We respect our clients' and our affiliates' clients' privacy. We don't discuss our clients by name' whether it's a local business' family' or an entertainer' and we show the same courtesy to affiliates. Everyone on staff' from the car washers to chauffeurs' sign a confidentiality agreement. That's how serious we are about it. If you call for VIP service' our reply is that everyone is a VIP."
In 2005' Boccio knew that she wanted to focus her efforts on building her farm-out business' which had not been a major component of the company's profits. "I felt that this could help take the company to the next level'" she says. "It started out slowly. We had to ask our clients if they would like us to arrange car service for when they got off the plane in another city. If we didn't have a relationship with anyone in that given city' the first place I would consult is the NLA member directory."
Boccio also makes sure to return work to those who have sent it her way' but that doesn't rule out smaller and newer companies. "If they have late-model vehicles' staff that answers the phone 24 hours a day' and professional chauffeurs' we'll use them. It's about servicing the client'" she says. "It's just something else we were able to offer to our local clients when traveling out of the area."
Outside of affiliate work' Boccio attributes much of the company's success to Buffalo itself. New York's second biggest city' Buffalo is a big draw to tourists from all over the U.S. and abroad thanks to its proximity to Canada. The region of Buffalo and Ontario welcome upwards of 30 million tourists annually.
"When the sagging economy did a number on American businesses in 2008' it was hard on the industry'" says Boccio' "but we didn't feel it like other parts of the country' and I think that has a lot to do with cross-border commerce from Canada."
Often referred to as "The City of Good Neighbors" because of its inhabitants' friendly nature' Buffalo is synonymous with the "Buffalo wing'" which originated here and remains a staple in tourist cuisine. Nearby Niagara Falls is' of course' one of the world's natural wonders' and Boccio says she is still amazed at how many people come to see the falls.
But Buffalo is more than chicken wings and waterfalls. A hub for health care' education' technology' and banking' the city is experiencing a rebirth' according to Boccio. Despite lagging economies elsewhere' Buffalo is booming' due in part to expansion from major universities as well as the Buffalo Niagara Medical Campus' with health care' life sciences research' and medical education institutions on 120 acres in the downtown area. "Buffalo is up and coming' and they are trying to attract talented medical professionals by rebuilding the downtown and this medical campus'" says Boccio.
Not to mention' upstate New York's popular Finger Lakes wine region is carving out a niche that rivals Napa Valley' offering wine tours on both sides of the border. This' in addition to the sports venues' like Ralph Wilson Stadium where the NFL's Buffalo Bills play' and First Niagara Center' home to the NHL's Buffalo Sabres. The city's newest mixed-use complex' the HarborCenter' is currently under construction and when finished will provide retail space' two indoor ice rinks' and a hotel.
Buffalo has benefits specifically in the realm of chauffeured ground transportation as well. Many Canadians will fly out of Buffalo Niagara International Airport because it offers lower tax and airline surcharges. But for Americans crossing the border' chauffeurs have a Nexus pass' which can save a client from missing a flight with backups at the bridge. Boccio sees this as an advantage for affiliate work. The company also maintains a satellite office in St. Catherine's' Ontario' for trips exclusively for Southern Ontario.
Even with all of these positives about Buffalo' Boccio says there are some pitfalls about the market. "We get a bad rap for the weather' but I don't think we got it as bad as others did this year'" she says. "The biggest challenge is finding help. It's tough to train people in this business." She adds that in other metropolitan markets there is a greater concentration of chauffeurs who have experience. But Buffalo Limousine has found luck with semi-retired or retired chauffeurs' and currently has several dozen chauffeurs on staff. "We have a low turnover' some have been here as long as 15 to 20 years' and the newest have been here for two to three."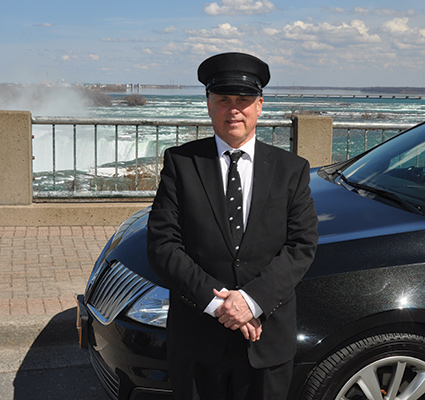 Chauffeur Roy Wander at Niagara Falls
Chauffeur training is handled by John Arnet' a former ground transportation company owner himself' who joined Buffalo Limousine as a partner in 2005. Arnet handles bookkeeping responsibilities and shares operations duties with Frank. The three partners also take turns answering calls overnight and on weekends—a testament to their commitment to the 24/7 model.
Arnet says Buffalo Limousine looks for more seasoned prospects to work as chauffeurs because of the lifestyle. "A chauffeur's lifestyle makes it tough to have a family'" he says. "So we've found that retirees are more flexible in their schedules."
Training is one on one and can last up to 30 days' starting off with the late Tom Mazza's training videos. "We love these videos still'" says Arnet. "They are a good introduction to what the daily life of a chauffeur is." From there' chauffeurs are taught procedures and major hot spots around the city.
"We'll have them dress in uniform and take Frank for a ride before a customer gets in the car with them'" he says. "When we feel they are ready' we'll ease them in slowly with airport runs and retails customers' keeping them on a short leash. After 30 days' we'll set them up on regular runs."
Vehicles are equipped with GPS tracking and cameras' which chauffeurs were hesitant about at first' but embraced once they realized how it would protect them and the company when there's an accident.
Arnet also worked with Mazza in person through his 20 group' which the late industry consultant facilitated. He is now a member of Andi Gray's learning and development group' which formed last year. Gray is a longtime business consultant and the founder of Strategy Leaders.
On the operations end of the business' Frank Boccio takes an equally careful approach when managing the other parts of the company's staff. He personally double checks each and every reservation that comes in. "I check it for details on our end or for details from an affiliate' and I do catch mistakes'" he says. "It's all about quality control so it has to be done."
He has a long history with Buffalo Limousine' starting out as a chauffeur' then becoming an owner-operator. When he moved into an ownership role' he admits it was a scary process. "I used to just drive' but when you come into the office' it was quite the learning process. After more than 15 years' I'm still learning every day'" he says. "But I do still like to interact with clients' so I'll try to get out there and drive them once in a while. Our regular and new customers are important to us' and I'm thankful for their loyalty to us day after day."
Paying attention to those details is one of the many lessons instilled in Buffalo Limousine by Patti. "That's something we reiterate to the staff'" says Boccio. "Service is in the details' and if they aren't happy with you' they'll use someone else."
Buffalo is more than chicken wings and waterfalls. A hub for health care, education, technology, and banking, the city is experiencing a rebirth." – Carla Boccio, Co-owner of Buffalo Limousine
Boccio says she wants to put her own stamp on the company' and she's making strides. But she admits being in the family business has its moments of strain. "My father and I are a lot alike' so I think that's what contributed to us butting heads'" she says. "In the beginning it was hard having him over my shoulder' but this many years later' our fleet has grown' revenue is up. In a way' though' I think having my dad around is like a secret weapon. On the days he comes into the office' he keeps everyone on their toes."
Frank adds' "My in-laws have been next to me every step of the way since I joined this company and the lessons learned are invaluable. There's nothing like being part of a family business."
Patti built the foundation for Buffalo Limousine and Boccio says keeping the company healthy is a top priority. Continuing to grow the farm-out side of things is one part of the equation' and the revitalization of Buffalo will play another major role. "In five to 10 years' I see the American side of the falls becoming a booming place' and we're on the ground floor of this development'" Boccio says.
"We're seeing a steady increase in revenue annually'" says Frank. "Being in business for 50-plus years has a lot to do with that' not to mention the work we've put into maintaining and updating the fleet. Every day' every hour' all we can do is put our best foot forward and carry out Buffalo Limousine as best we can." [CD0514]